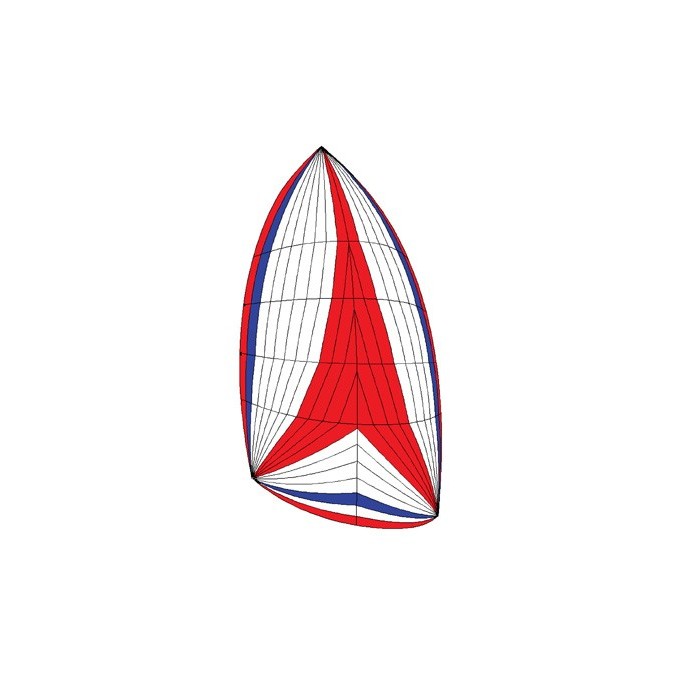  
- Tri-radiale cut
- High tenacity Nylon 1.5 oz
- Sewing triple point with anti UV thread
- Tear drop corner reinforcement system
- Luff tensioner
- Leesh tensioner with cleat
- Stainless eyelet
- Spi sail bag
- Luff : 23.50 m
- Leech : 22.09 m
- Foot : 12.47 m
- Sail's surface : 243 m²
Range of use for this spinnaker : :
Produced from a blend of traditional symmetrical spinnakers and close-hauled sails, the asymmetric spinnakers appeared with the very fast boats that had a very tight apparent wind . Then they have been adopted for cruising boats for ease in handling and great range. As its name indicates , the leech and the luff of the spinnaker are not the same size, as for symmetrical spinnakers. The asymmetric spinnakers are smaller than the symmetrical for a same boat.
The spinnaker's tack goes on the bowsprit or on the bow of the boat and the sheets will both go on the clew. We don't need another accessories to use it . The jibe , because of the lack of spinnaker pole is then simply as a conventional jib. Coupled with a spinnaker sleeve, to collapse the spinnaker will be easy without the risk of "fishing" or make a tear. The spinnaker is very fast both at broad reach, and beam reach. It does not go downwind because of the tight coverage of the mainsail. Its range of use varies between apparent wind of 80 ° and 155 °.
Finally , if you need to pick only one spinnaker onboard , this would be this one !
Data sheet
LUFF

23.50 m

LEECH

22.09 m

FOOT

12.47 m

AREA

243 m²
16 other products in the same category: